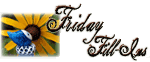 Click the Button Above to find more information on Friday Fill-Ins
1. Apples are to oranges as
Opie is to Diesel (My puppies couldn't be any more different)
.
2.
I am so happy its Friday
and that's all I have to say about that.
3. I think I hear
a great country song playing with people dancing (oh a girl can wish).
4.
I love the American
flag.
5. Do what you want to do,
but I am going to find cotton candy and bud light to enjoy this weekend.
6.
My friend Paul was running
and behind him was a Radio Flyer wagon; in the wagon was a bucket filled
with water, Super Soakers and Water Balloons (It could happen…this weekend in fact)
7. And as for the weekend, tonight I'm looking forward to
Watching Star Trek
, tomorrow my plans include
to get my hair dyed (finally), go swimming and get some sun, and watch Twilight while eating pizza with friends
and Sunday, I want to
go to church and celebrate my Moms!